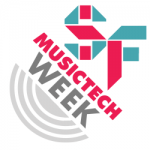 Before & After …
Check out SF MusicTech Week for interesting things to do during the week before & after SF MusicTech Summit XVI.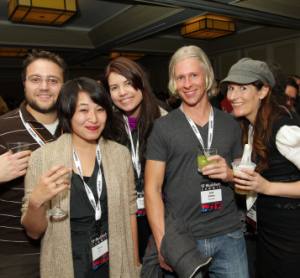 Opening Night Party
Monday, November 10, 2014
O Izakaya Lounge at the Hotel Kabuki
Registered SF MusicTech Summit attendees only.
5pm – 7pm+
Sponsored by: Mailchimp

SF MusicTech Summit XVI



Tuesday, November 11, 2014
Hotel Kabuki
1625 Post Street
AGENDA
*Subject to change
8:30 – 8:50a
Registration and Breakfast
Sakura Room
8:50 – 9:10a
Welcome & Opening Remarks
Brian Zisk, Executive Producer, SF MusicTech Summit
9:10 – 9:20
Break
Sakura Room
9:20 – 10:20a
Bandcamp Subscriptions
Ethan Diamond, Bandcamp, CEO

Turning Fans into a Digital Street Team
Jeff Smith, Smule, CEO

Internet Archive Presentation
Brewster Kahle, The Internet Archive


Spring Room
9:20 – 10:20a
Hot Topics in MusicTech Law
MODERATOR: Gary Greenstein, WSGR
Jacqueline Sabec, King, Holmes, Paterno & Berliner, LLP
Eric Ferraro, Fathom Law
David Kokakis, Universal Music Publishing Group
Kyoto Room
9:20 – 10:20
Elevator Pitch Session
All are welcome to present a 30 second to 1 minute pitch about their company or projects to connect with others who may want to work with you.
Osaka Room
9:20 – 10:20
Community Conversation: The Changing Landscape of San Francisco Nightlife
MODERATOR: Jocelyn Kane, SF Entertainment Commission
Mark Rennie, Esq. – Law Office of Mark Rennie
Scott Weiner, SF Board of Supervisors, District 8
10:20 – 10:40
COFFEE BREAK sponsored by QTS Data Center Services
Sakura Room
10:40 – 11:40
What's Next in MusicTech
MODERATOR: Ralph Simon, Mobilium
Ty Roberts, Gracenote
Tim Quirk, Freeform Development, Inc.
Darryl Ballantyne, LyricFind
Chamillionaire, Chamillitary
Spring Room
10:40 – 11:30
Where's the Cash for Musicians Today and Beyond
MODERATOR: Zack Greenburg, Forbes
Dave Cool, Bandzoogle
Kristin Thomson, Future of Music Coalition
Wade Metzler, SoundExchange
J Sider, BandPage
Amy Dietz, INgrooves
Osaka Room
10:40 – 11:40
Discovery
MODERATOR: Sarah Buhr, TechCrunch
Gary Kanazawa, StubHub
Sam Valenti, Drip.fm
David Porter, 8tracks
Bora Celik, Jukely
Kyoto Room
10:40 – 11:40
Developing Your Video Strategy
MODERATOR: Gray Gannaway, Quarterlab
J. Gibson, Rumblefish
Bryan Calhoun, The Blueprint Group
Brian Felsen, AdRev
Ellen Eby, YouTube
Garden Room A
10:40 – 11:40
Women in MusicTech Meetup
HOST: Shoshana Zisk, SF MusicTech Summit
HOST: Cindy Charles, Amazon.com / Women In Digital Media
Women only, please!
LUNCH BREAK
Sakura Room
1:00 – 3:00
Product & Technology Demos
HOST: Tom Cheredar, VentureBeat
HOST: Larry Marcus, Walden Venture Capital
Carsten Aermes, Phon.o
Vincent Castaignet, Musicovery
Turner Kirk, Smule
Elmo Lovano, Jammcard
Kathleen McMahon, SoundHound
Justin Evans, LANDR
Tom Pernikoff, Tunespeak
Joanna Alpe, Makelite Interactive
Larry Logan, Digimarc Corporation
Adrian Holovaty, Soundslice
Heather Newman, Feather Ventures
Spring Room
1:00 – 2:00
Applied Analytics
MODERATOR: Mike King, Berklee Online
Lars Murray, Pandora
Matt Urmy, Artist Growth
Kiran Gandhi, Data Analyst / M.I.A. Drummer
Kyoto Room
1:00 – 2:00
Virtual Music Collaboration
MODERATOR: Chris McCutcheon, TRI Studios
Steve Martocci, Splice
Jim Lattimore, Musistic
Bryan-Michael Cox, So So Def Recordings
Chris Kantrowitz, Gobbler
Garden Room A
1:00 – 2:00
Speed Networking
Sponsored by WSGR
All are welcome to come meet and mingle with other attendees in our speed networking sessions!
Spring Room
2:00 – 3:00
API Ecosystem
MOD: Kin Lane, API Evangelist
Antti Silventoinin, Music Kickup
Justin Woo, PayPal / Braintree
Steven Willmott, 3Scale
Bill Hajjar, Senzari
Osaka Room
2:00 – 3:00
Renee Richardson, KFOG Interviews
Tom Luce, Lead Singer of Luce
Kiran Gandhi, M.I.A. Drummer / Harvard MBA Student
Garden Room A
2:00 – 3:00
Speed Networking
Sponsored by WSGR
All are welcome to come meet and mingle with other attendees in our speed networking sessions!
Kyoto Room
2:00 – 2:30
Why You're Not Getting Paid the Streaming Money You Earned (And How To Get It)
Jeff Price, Audium
Kyoto Room
2:30 – 3:00
Kick Ass on Kickstarter:
Thriving Under the New Patronage Model
Bryan Kim, Think Steady
Osaka Room
3:00 – 3:30
Renee Richardon, KFOG Interviews
Martin Luther McCoy, Musician
Sakura Room
3:00 – 3:30
Rhythm Worlds: Sonifying the Rhythmic Universe
HOST: Benjy Eisen, Rolling Stone / DeadBeat Management
Mickey Hart, Grateful Dead / 360 Degrees Productions, Inc.
3:00 – 3:30 Afternoon Break
Sponsored by QTS Data Center Services
Sakura Room
3:30 – 4:30
Musicians for Audio Quality Initiative
MODERATOR: Kraig Fox, Guggenheim Partners
Bob Weir, Grateful Dead / TRI Studios
Lukas Nelson, Lukas Nelson & Promise of the Real
Dennis "Wiz" Leonard, TRI Studios / Skywalker Sound
Mike Jbara, Alternative Distribution Alliance
Spring Room
3:30 – 4:30
Digital Marketing Today & Tomorrow
MOD: Jaclyn Ranere, The Orchard
Kavi Halemane, The Collective
Lance Coleman, Playola
Kevin Breuner, CD Baby
Marisol Segal, OpenAura
Osaka Room
3:30 – 4:30
Building the Electronic Revolution: An Insight Into EDM's Explosive Growth
MODERATOR:  Ari Evans, LessThan3
Jake Udell, Th3rd Brain
Betty Tran-Chillino, Insomniac
Robert Scoble, Scobleizer / Rackspace
Alexandra Greenberg, MSO PR
Kyoto Room
3:30 – 4:30
SF MusicTech Startup Showcase Winners
HOSTED BY: Patti Silverman, SF MusicTech Summit
David Dufresne, Bandzoogle
Patrick Mahoney, SF MusicTech Fund
Shane Tobin, Spotify / The Echo Nest
Darryl Ballantyne, LyricFind
Garden Room A
3:30 – 4:30
Speed Networking
Sponsored by WSGR
All are welcome to come meet and mingle with other attendees in our speed networking sessions!
Spring Room
4:30 – 5:00
Looking Back, Forward, and Around the Corner: The Odyssey of Music as a Service –
A Fireside Chat with Zahavah Levine and Ted Cohen
HOST: Ted Cohen, TAG Strategic
Zahavah Levine, Google Play, VP, Global Music Partnerships
Sakura Room
5:00 – 6:00
Experiences
MODERATOR: Nic Adler, Goldenvoice
Jimmy Chamberlin, Smashing Pumpkins / LiveOne Inc.
Benji Rogers, PledgeMusic
Hany Nada, GGV Capital
Dan Berkowitz, CID Entertainment
Spring Room
5:00 – 6:00
Quality Sound Matters
MODERATOR: Piper Payne, Mastering Engineer
Maureen Droney, The Recording Academy, Producers & Engineers Wing
Ryan Ulyate, Tom Petty & The Heartbreakers, Producer/Engineer
Mark Ruxin, Rdio
Randy Leasure, PonoMusic
Osaka Room
5:00 – 6:00
Bring the Studio to the Stage
Host: Peter Nyboer, Livid Instruments
Host: ill.Gates, Bass Music Producer
Kyoto Room
5:00 – 6:00
Rhythm Workshop
HOST: Benjy Eisen, Rolling Stone / DeadBeat Management
Rohan Krishnamurthy, Rohan Rhythm
Garden Room A
5:00 – 6:00
Merch Meetup
CO-HOST: Ed Aten, Merchbar
CO-HOST: Django Bayless, Live Nation Merch
Tuesday, November 11, 2014
6:00 pm – 8:00 pm
Hotel Kabuki, 1625 Post Street
Registered SF MusicTech Summit attendees only.
Sponsored by: LyricFind, Lagunitas, and SXSW